#1 MLM Software in the US

Grow your revenue with DirectScale, an Exigo company.

There is no other MLM software that offers business intelligence for direct selling, Shopify integrations, open API, and RevCapture Alerts in one platform.

Try the best of DirectScale & Exigo combination in one feature-packed platform!
Award-winning software designed to increase sales and streamline operations
DirectScale, an Exigo company, is the right partner for data-driven and ethical direct-selling or MLM companies with a proven comp plan, technical resources, and distributor-growth-focused leadership.
Whether you have a traditional direct selling model or a mix, DirectScale handles your needs. Take your business to the next level with the most powerful network marketing platform on the US market.
See DirectScale in Action
"DirectScale opened the revenue floodgates, and revenue doubled for three or four consecutive months. DirectScale saved us time like crazy. They also saved money because we didn't have to hire an in-house tech team to do basic customizations. I think DirectScale has a customer for life."
– Ryan Scott, VP of Neumi
Easily manage your commissions

Auditing and modifying your commission payouts and compensation plans will be easier than ever. Users can modify and audit their compensation plans and commission payouts independently and without extra costs.
DirectScale also allows MLM leaders to model and test-drive hypothetical changes in their comp plan to see the hypothetical changes & consequences.
There is no other platform on the market that offers such a feature.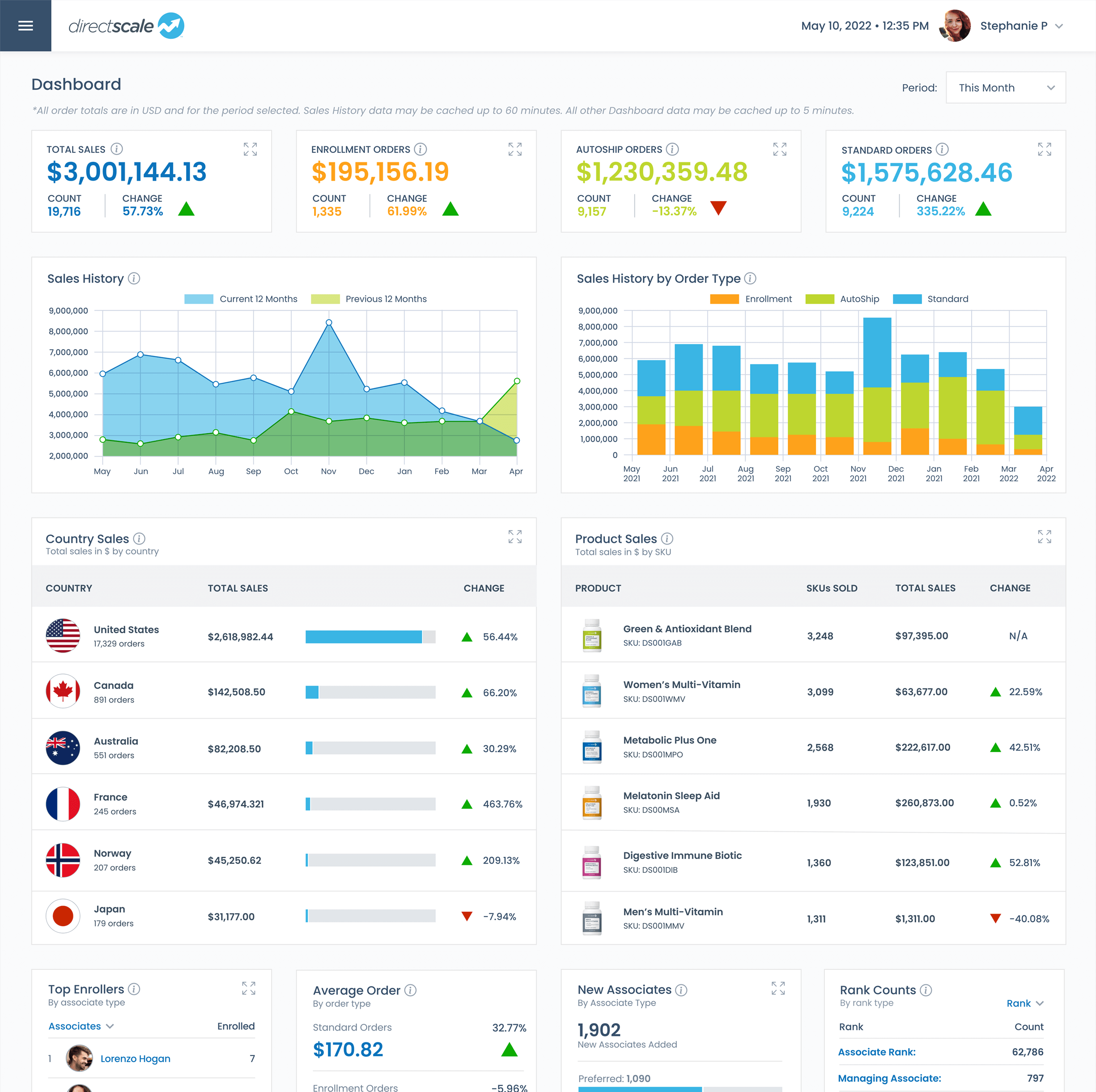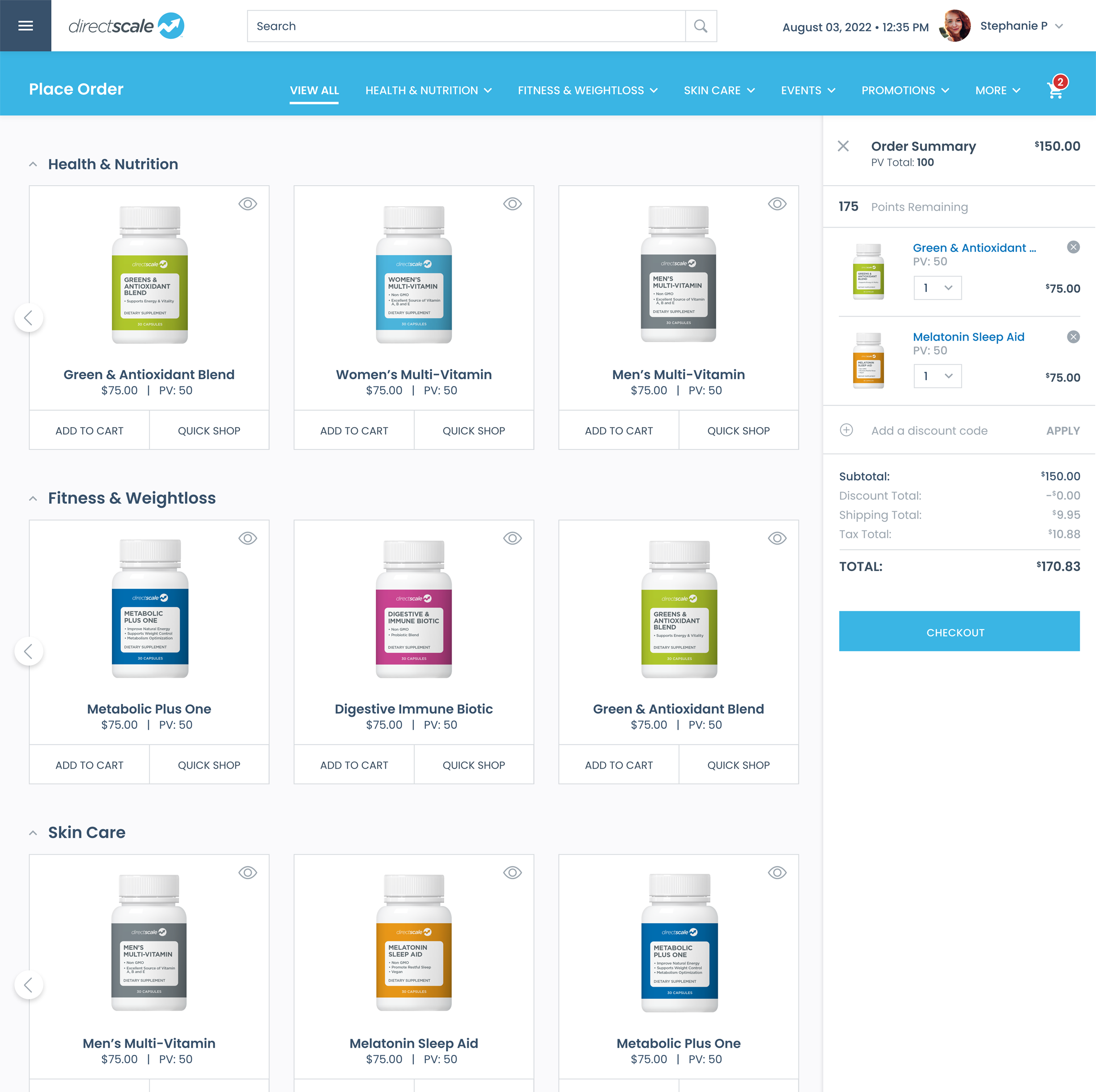 Grow your ecommerce & scale automatically
At DirectScale, we support your field by helping them achieve higher enrollments through many ecommerce options.

Enjoy our modern ecommerce choices like Shopify that seamlessly integrate with the other DirectScale commission and back office software applications.
Moreover, our cloud-based MLM software eliminates lost sales due to volume peaks and server overloads. DirectScale grows as your business grows and scales back during slower times to save you money.
Use the one & only business intelligence for direct sellers

DirectScale is 100% data-driven. Forget the guesswork and lean into BI data.

Our business intelligence dashboards give your insights into:
Segments of your reps & customers

Sales trends & product performance

Team & customer retention data

Reporting by market, rank, time, and much more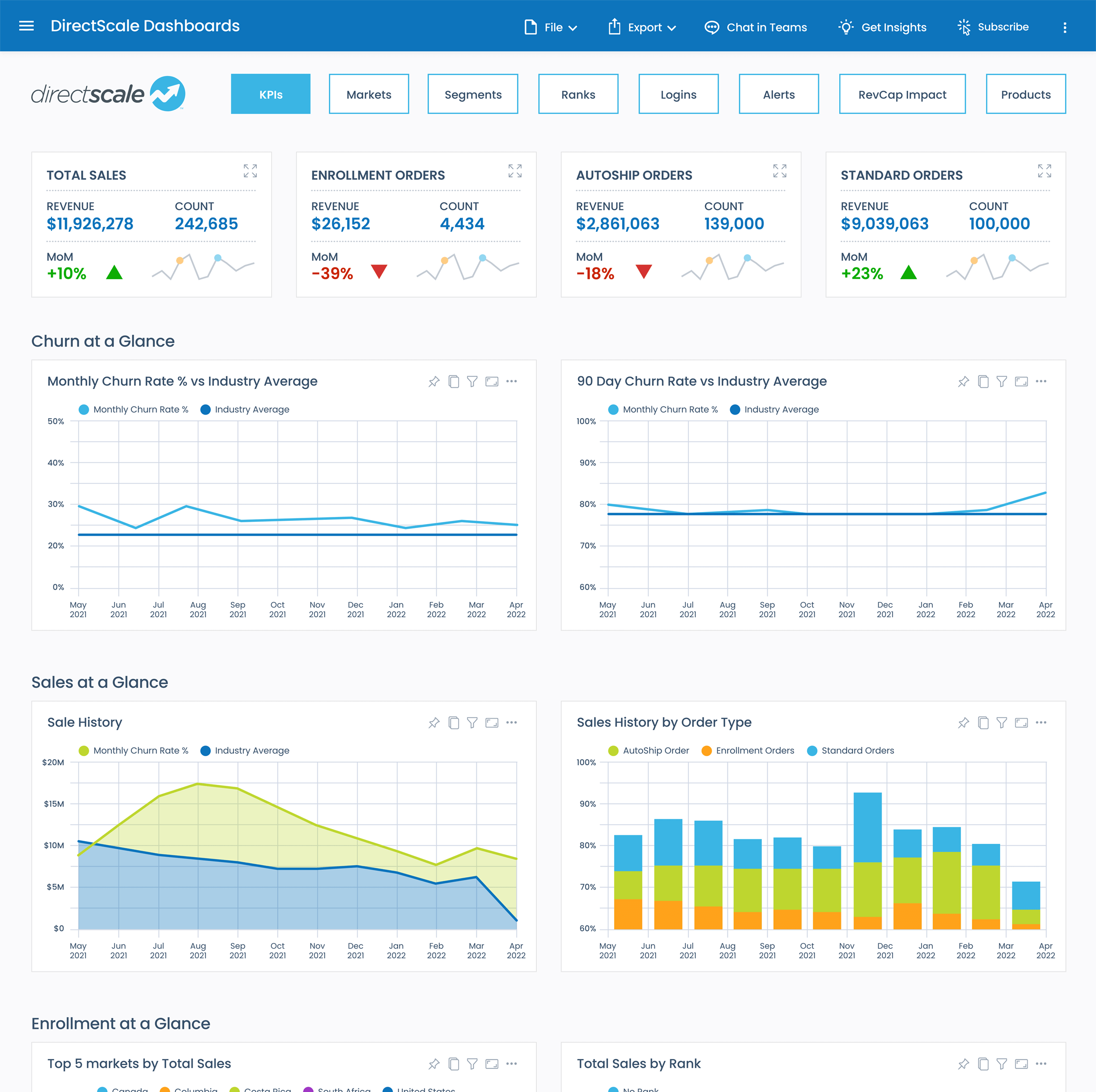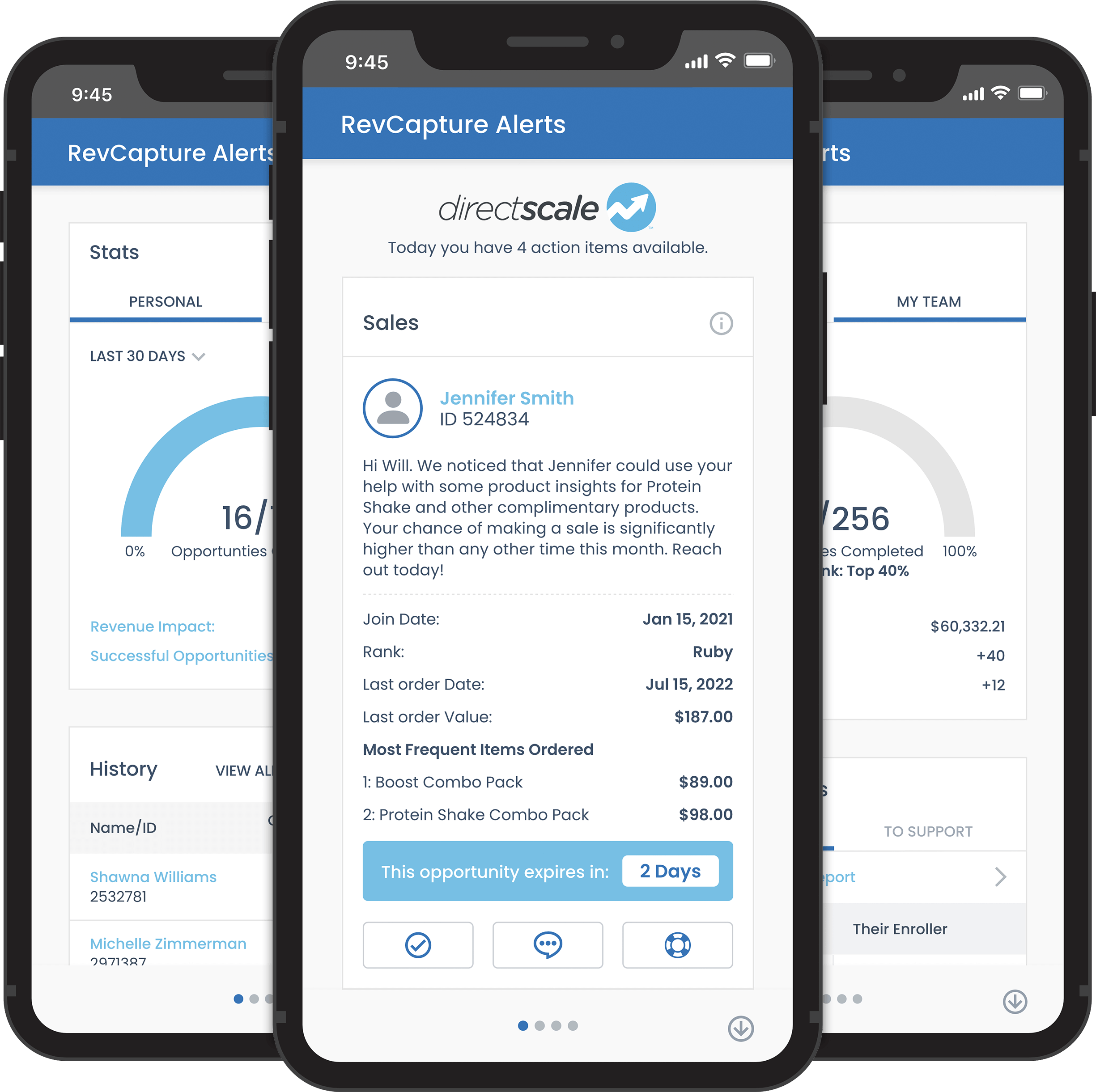 Stay updated with RevCapture Alerts
High churn rates, stagnation, and lost product revenue are some of the biggest drags on a business. There is no other tool in the industry that drives more activity and new revenue than our RevCapture Alerts.
Revenue Capture Alerts combine machine learning and personalized messaging to focus your field on the most important people in their network who need their support now.
RevCapture Alerts are fully automated and managed – for maximum impact and with minimal corporate effort.
"Most other platforms are stuck in the past, so their flexibility and adaptability are really poor. But with DirectScale, in sharp contrast, our company is more stable and scalable than anything we've ever worked with."
– David Nemelka, CEO of Engage Global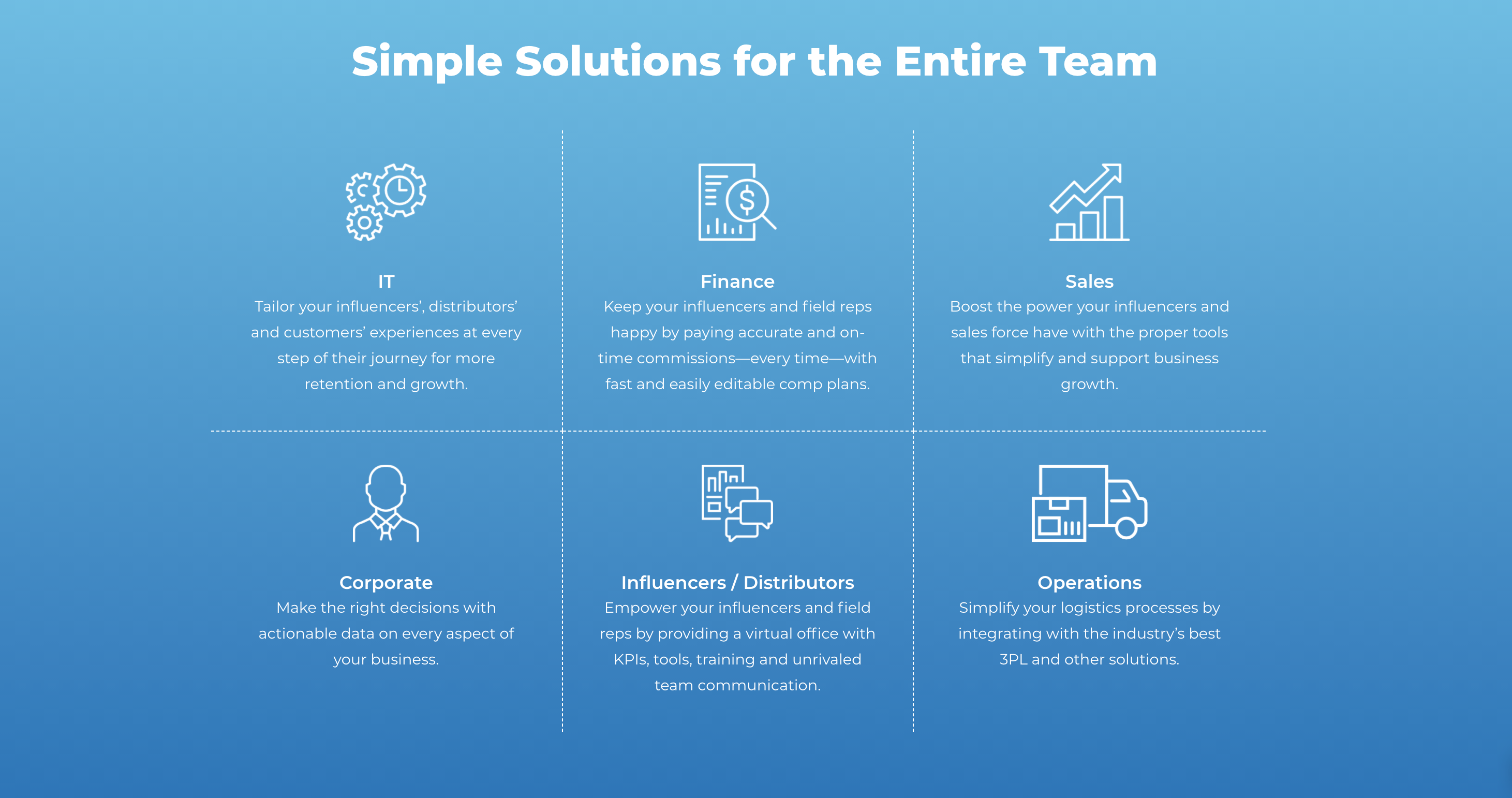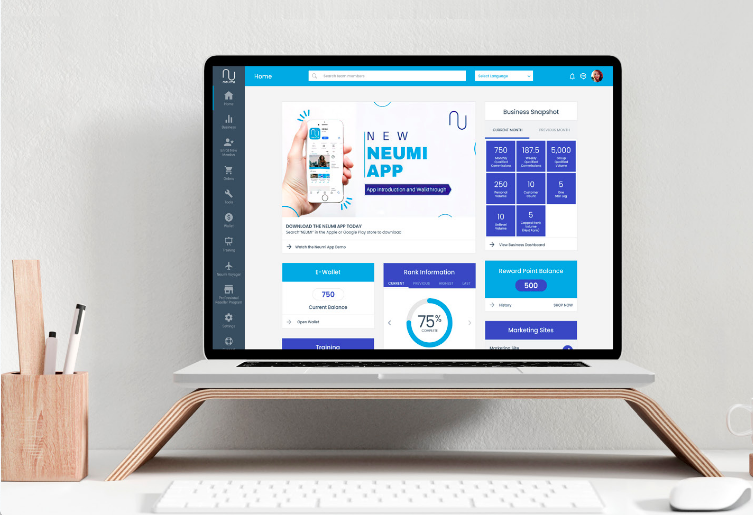 Client Success Story: Neumi
Ryan Scott, VP of Neumi, was highly motivated to get off their old platform. "It's a miracle that we didn't crash & burn with our first platform. So I reached out to DirectScale: This is an emergency. We need to get launched as soon as possible," he said. "We were onboarded & up and running in four weeks. It was just incredible. DirectScale saved our company."
Today, Neumi uses DirectScale as its full-stack SaaS network marketing platform. Ryan and his team love these features:

Commissions monitoring & modeling.


Easy creation & management of SKUs.

Auto-ship forecasting.


Free live support on chat.



Request a Free Demo with DirectScale by Exigo